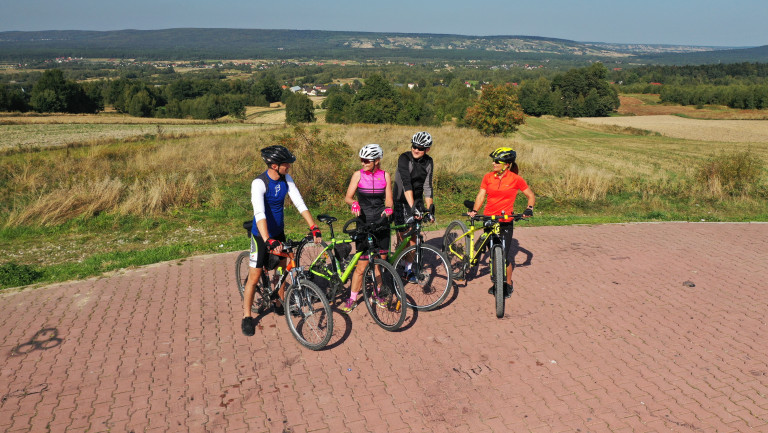 CYCLING ŚWIĘTOKRZYSKIE – a new guide for cycling enthusiasts
A new cycling guide of the Świętokrzyskie region, containing an offer of 25 trails  of different difficulty,  has been published as an element  of cooperation of the Marshal Office and the Tourist Publishing Company "Compass". Everyone can find there something for themselves – cycling beginners, families with children as well as enthusiast of more challenging routes. While following the described trails we can also reach the most interesting sites of the Świętokrzyskie Voivodeship.
Each of the 25 trips has got a short summary of the route, a description of  its course, information on the length and profile of the trail and, through the added QR codes, one can download its GPS location. The guide contains also some practical information useful during a trip, described with simple pictograms, e.g. the type of surface, difficulty of the route, approximate time of the ride, etc.
The forest trails, which  are mostly unsurfaced, service roads, there can be temporarily closed, due to forest cultivation works, nevertheless, the foresters have declared that, as soon as the works are finished, all of them should be available. Therefore, we ask for your understanding and special attention on those routes or choosing alternative ones. Please, pay attention  to all signs informing about road works in progress. This concerns especially the MTB trails, described in the guide.
The guide "Cycling Świętokrzyskie"  is available in paper in the Regional Tourist Information Centre on Sienkiewicza street 29 in Kielce. Its electronical version (Polish)  is published on the following website:
https://www.swietokrzyskie.pro/category/rowerowe-swietokrzyskie/.
Detailed maps of the  trails and trips presented in the guide  are also available on:
https://sdi.e-swietokrzyskie.pl/roweroweswietokrzyskie/#.
You can also find additional information on different cycling routes in Świętokrzyskie on:
https://swietokrzyskie.travel/en/informator_turystyczny/jak_spedzic_czas?type=trail&types=poi.type.bicycle